Over 50 Years experience in Scrap Metal & Waste
Privately owned Australian company
Founded by Alex and Directors, QLD Catalytic Recyclers is one of the prominent buyers and recyclers of catalytic converters in Australia and New Zealand.
Our years of expertise and team of dedicated professionals make us unique. Over the years, we have become synonymous with auto wrecking and cat converter recycling services.
If you are looking for a way to get rid of your old automobiles and recycle cat converters for top dollar, then your search can end here.
Catalytic converters are pollution control devices that play a very crucial role in the automotive industry. It is the range of precious metals in this converter that makes it an ideal candidate for recycling. However, the lifespan of automobiles may be lesser than the catalytic converters. This is where QLD Catalytic Converters come into play.
We are one of the leading players of catalytic converter recycling in Queensland and other parts of Brisbane. Our state-of-the-art auto wrecking and catalytic recycling services are well known in Australia. As a company, we not only help our customers get rid of their automobiles but also do our bit for the environment.
Steadily increasing pollution in the environment led to manufacturers introducing catalytic converters in all new vehicles. Recycling catalytic converters is significantly benefitting the environment by reducing harmful carbon emissions. We are doing our part towards keeping the environment clean and pollution-free.
Recycling catalytic converters is the win-win situation that every customer wants. You can dispose of your old, damaged automobiles while earning top dollar for it. Our constant effort is to offer an end-to-end catalytic recycling solution to our customers. Right from quotation to paying you in full before towing the automobile, our team handles it all.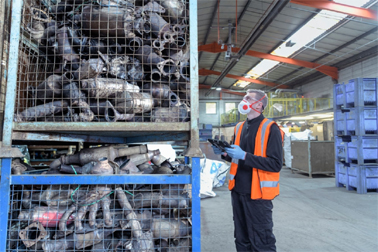 Additionally, we also offer top-notch auto wrecking services for your used, damaged, and old automobiles. At QLD Catalytic Converters, we offer free consultation and towing services. We believe that you're broken and damaged automobile should not incur you any further expenses. In fact, we intend to pay you top dollar for your recycled catalytic converter and auto wrecking.
Our motto is to help you earn while doing good for the environment. Our cost for catalytic converters is considerably lower, and our offer price for buying them is higher. At the end of the day, we believe in 100% customer satisfaction. We take care of your quotation, paperwork, automobile assessment and valuation, and towing.