[[[["field19","contains","Call me back"]],[["show_fields","field5,field2"]],"and"],[[["field19","contains","Reply to my email"]],[["show_fields","field2,field5"]],"and"],[[["field19","contains","Send me text message (SMS)"]],[["show_fields","field5,field2"]],"and"]]
Gold Coast Catalytic Converter Recyclers
There are often expenses that may come under liabilities, but one has to incur them anyway.
Automobile purchase is one such necessity that most people simply can't walk away from. However, after a couple of years, the automobiles generally run its course. Eventually, they end up costing more in damages and repair than they are actually worth.
If you have reached a similar stage and are thinking about scrapping your automobile for good, then we have some good news for you.
Gone are the days when your automobiles and used cat converter needed to be disposed of in a time-consuming and effort taking manner. Gold Coast Catalytic Converter recyclers have it all covered for you! Auto wrecking and Catalytic converter recycling are not only safer and better for the environment, but it can also help you earn top dollar.
Why recycle used cat converters in Gold Coast?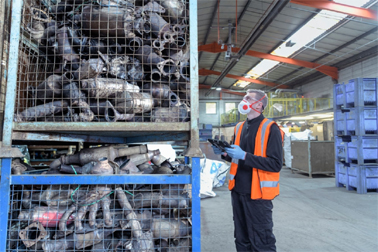 Avoiding carbon emission and mitigating pollution in the environment has become a top priority, especially for automobile manufacturers. It is for this reason that catalytic converters were introduced in automobiles and eventually declared a necessity. However, these pollution control devices are made from some of the costliest metals, and disposing them in the long term is a waste of metal and money!
Recycling used cat converters is the win-win situation that the auto industry and end customers need. Our motto is to help you earn for cat converter recycling while doing good for the environment as well. At QLD Catalytic Converters, we are not about recycling and wrecking services; it is equally essential for us to help customers understand the need for cat converters, their impact on the environment, and how our services would be beneficiary. We believe that customer satisfaction is the key to success, and we aim is to ensure that you are well informed and involved in the entire recycling and wrecking process.
Catalytic
Converters

in Gold Coast
QLD Catalytic Converters are one of the prominent buyers and recyclers of used catalytic converters in Australia and New Zealand. We recycle Catalytic Converter from all makes and models of auto and guarantee you top dollar. We are known for our top-notch services in the Gold Coast and many other neighboring areas.
From setting up an appointment with our experts to getting a valuation of your used cat converter, and from seamless paperwork to free towing services, we will do it all.
Our team of dedicated professionals handles every inquiry personally and ensures that you get a fair price for your used cat converters. We offer recycling and auto wrecking services in Queensland and other parts of Brisbane, as well. Our free pickup service and seamless paperwork process have made us Gold Coast's number 1 choice.
All you have to do is contact us to discuss cat converter recycling with our team of experts. You can also fill our online form for any inquiry, and we will get in touch with you as soon as possible. For all catalytic converter recycling, we are just a call away!
The Most Reliable
Catalytic Converter Recycling

Services in Gold Coast
QLD Catalytic Recyclers leads the catalytic recycling market for a host of reasons. including unmatched skill sets, marketing experience, and deepest possible understanding of the technologies. We also understand the value of scrap and how important recycling is for the environment.
Individuals can head over to our website and get the best price for their catalytic converters. QLD Catalytic Recyclers is the best place to sell the catalytic converters as we actually keep minimal profit margins. We also allow the clients to get the most out of the spare parts. We understand that there are certain guidelines one needs to abide by before selling the catalytic converters.
We take all the validations and credible checks into account. We also test and label the cat converters before initiating the sale. We buy cat converters and even offer the best price for them, unlike some of the other firms in Brisbane.
We, at QLD Catalytic Recyclers, understand the intricacies of using erroneous and old cat converters. Using the discarded ones can interfere with the existing environmental carbon levels and this is where we come in. We cut the burden of used catalytic converters by recycling the same.
Our penetration into this market helped manufacturers supply new and improved products to the companies. We also made sure that we recycle items according to the environmental and industrial standards.
It is important to understand that catalytic converters are potent metal mines. Proper analysis and sampling techniques are needed to the most out of them. We make sure that accurate quantities of all the associated metals and minerals are sampled and assayed. Most importantly, we offer personalized services as every batch is specifically consigned for the concerned customer.
[[[["field19","contains","Call me back"]],[["show_fields","field5,field2"]],"and"],[[["field19","contains","Reply to my email"]],[["show_fields","field2,field5"]],"and"],[[["field19","contains","Send me text message (SMS)"]],[["show_fields","field5,field2"]],"and"]]
Top price paid and excellent service. I lived in Brisbane QLD and needed to post Catalytic Converters down. Price was agreed to via photos and phone conversation before I posted. Upon receiving the CAT, they promptly paid the agreed amount into my account. Very easy and trustworthy. Thanks.
Received outstanding service, was quoted $55 locally for my Catalytic Converters. But with these guys got me $180. I am pleased with the service. Thank you so much, Guys.