[[[["field19","contains","Call me back"]],[["show_fields","field5,field2"]],"and"],[[["field19","contains","Reply to my email"]],[["show_fields","field2,field5"]],"and"],[[["field19","contains","Send me text message (SMS)"]],[["show_fields","field5,field2"]],"and"]]
Springbrook Catalytic Converter Recyclers
Automobiles have become an integral part of our life. However, with increase in the pollution level, the Catalytic converter have become mandatory. Though they play a crucial role of keeping the harmful vehicle emission low, it also adds to the metal scrap. However, keeping in mind the environmental impact, more and more Catalytic Recyclers have come in the picture. So, if you have any used cat converter that no longer serves the purpose connect with your nearest Springbrook Catalytic Converter Recyclers today.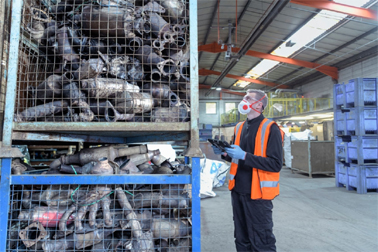 QLD catalytic converter is one of the leading auto wreckers and Catalytic Recyclers. With our headquarters in Brisbane, we offer our expert services to neighboring areas of Queensland. We buy cat converter in exchange for top cash. We are not rigid about the make or the model of the cat converter. We buy Catalytic Converter from all makes and models and offer the best price for the same.
We are team of skilled professional with deep knowledge of the market. We also have highly knowledgeable staff to help our customers with any doubts or queries that they may have. Our high level of professionalism is what sets us apart from other recyclers in the area. So, if you want to experience the best in the Cat converter recyclers you have come to the right place.
Advantages of
working

with us
Apart from being the best in the industry, working with us gives you following advantages
Competent Staff – Our staff undergo regular training. This helps them in helping you with all types of queries you may have without wasting your precious time.
Expert Valuation – Each Cat converter is different. And as an expert, we have skilled team who will offer you an honest valuation and quote the best price in the market.
Customer centric approach – Our customer centric approach is one of the key strengths. Our process is simple and doesn't involve too much of paper work. This makes it a hassle-free and quick process saving your valuable time.
Flexibility – We offer flexibility to our customers in the way we close the deal. The customer has an option of contacting us through phone or our website. Similarly, customer can choose to avail our free pick up service or mail us the Cat converter. We also offer option for payment methods. Our client can ask for payment in cash, payment through check or electronic transfer.
Fast turnaround time – With all the options available, we are able to close most deals on the same day. This reduces the turnaround time enabling us to service more clients. Also, the client need not wait long after contacting us thus saving their valuable time as well.
The Most Reliable
Catalytic Converter Recycling

Services in Springbrook
QLD Catalytic Recyclers leads the catalytic recycling market for a host of reasons. including unmatched skill sets, marketing experience, and deepest possible understanding of the technologies. We also understand the value of scrap and how important recycling is for the environment.
Individuals can head over to our website and get the best price for their catalytic converters. QLD Catalytic Recyclers is the best place to sell the catalytic converters as we actually keep minimal profit margins. We also allow the clients to get the most out of the spare parts. We understand that there are certain guidelines one needs to abide by before selling the catalytic converters.
We take all the validations and credible checks into account. We also test and label the cat converters before initiating the sale. We buy cat converters and even offer the best price for them, unlike some of the other firms in Brisbane.
We, at QLD Catalytic Recyclers, understand the intricacies of using erroneous and old cat converters. Using the discarded ones can interfere with the existing environmental carbon levels and this is where we come in. We cut the burden of used catalytic converters by recycling the same.
Our penetration into this market helped manufacturers supply new and improved products to the companies. We also made sure that we recycle items according to the environmental and industrial standards.
It is important to understand that catalytic converters are potent metal mines. Proper analysis and sampling techniques are needed to the most out of them. We make sure that accurate quantities of all the associated metals and minerals are sampled and assayed. Most importantly, we offer personalized services as every batch is specifically consigned for the concerned customer.
[[[["field19","contains","Call me back"]],[["show_fields","field5,field2"]],"and"],[[["field19","contains","Reply to my email"]],[["show_fields","field2,field5"]],"and"],[[["field19","contains","Send me text message (SMS)"]],[["show_fields","field5,field2"]],"and"]]
Top price paid and excellent service. I lived in Brisbane QLD and needed to post Catalytic Converters down. Price was agreed to via photos and phone conversation before I posted. Upon receiving the CAT, they promptly paid the agreed amount into my account. Very easy and trustworthy. Thanks.
Received outstanding service, was quoted $55 locally for my Catalytic Converters. But with these guys got me $180. I am pleased with the service. Thank you so much, Guys.