[[[["field19","contains","Call me back"]],[["show_fields","field5,field2"]],"and"],[[["field19","contains","Reply to my email"]],[["show_fields","field2,field5"]],"and"],[[["field19","contains","Send me text message (SMS)"]],[["show_fields","field5,field2"]],"and"]]
Surfers Paradise Catalytic Converter Recyclers
If you are looking for the best catalytic converter recyclers in Surfers Paradise, to get rid of your used automobile and earn while doing so, then you've come to the right page. We see recycling used cat converters as a win for all the parties involved. We buy your used cat converters at the best market rate while we sell it for reasonable prices to help curb the pollution.
Manufacturers can always reuse the recycled cat converters to create more for lesser production cost. So, while you do your bit for the environment, we have figured out how you can make money doing so! Opt for our seamless buying and recycling catalytic converter services and earn top dollar while you dispose of your used automobiles for good.
For all residents of Surfers Paradise town, we offer top-notch catalytic converter recycling and pick-up services. We are leaders in recycling and auto wrecking, in Queensland and other parts of Brisbane, and see to it that you receive top dollar for your used catalytic converters.
Learn about Catalytic Converter Recycling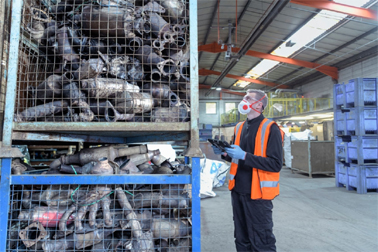 It is very crucial to know about recycling cat converters in depth before you actually decide to start looking for scrap yards. It is because of catalytic converters that the carbon emission that automobiles release in the environment can be curbed. However, these converters are made with some of the most expensive materials and metals, and hence, recycling becomes essential for manufacturers, buyers, and sellers alike.
Our team of experts is there to help you evaluate the used cat converter and quote based on its make, model, and current condition. You can always choose to give us a call, book an appointment, or just fill out our online form to inquire in detail.
If you don't know much about scrap catalytic converters, then you can book an appointment with our experts. They can help you understand all about recycling cat converters at ease. You can know how much you stand to earn by recycling your used cat converters, based on the make and model of your auto. Depending on your requirements, we offer comprehensive recycling and auto wrecking services.
Our
3-Step Recycling

Process
It is our constant effort to offer you a seamless recycling experience and make sure that our process is small, quick, and effective. Here is how our recycling and auto wrecking services work
Get a quote for your used cat converter

Get in touch with our team with your inquiry for catalytic converter recycling. Call us at 07 3082 6446 or write at [email protected] , and our executives will contact you shortly.

Assessment & Valuation

Our experts will assess the make and model of the used catalyst before proceeding. We recycle old, used, broken and damaged cat converters, and offer top dollar for it.

Pickup & Payment

Once all the paperwork is completed, we show up right at your doorstep to pick up the catalytic converters. Before we sign off and leave with the automobiles, we see to it that you are paid for the recycling in full.
The Most Reliable
Catalytic Converter Recycling

Services in Surfers Paradise
QLD Catalytic Recyclers leads the catalytic recycling market for a host of reasons. including unmatched skill sets, marketing experience, and deepest possible understanding of the technologies. We also understand the value of scrap and how important recycling is for the environment.
Individuals can head over to our website and get the best price for their catalytic converters. QLD Catalytic Recyclers is the best place to sell the catalytic converters as we actually keep minimal profit margins. We also allow the clients to get the most out of the spare parts. We understand that there are certain guidelines one needs to abide by before selling the catalytic converters.
We take all the validations and credible checks into account. We also test and label the cat converters before initiating the sale. We buy cat converters and even offer the best price for them, unlike some of the other firms in Brisbane.
We, at QLD Catalytic Recyclers, understand the intricacies of using erroneous and old cat converters. Using the discarded ones can interfere with the existing environmental carbon levels and this is where we come in. We cut the burden of used catalytic converters by recycling the same.
Our penetration into this market helped manufacturers supply new and improved products to the companies. We also made sure that we recycle items according to the environmental and industrial standards.
It is important to understand that catalytic converters are potent metal mines. Proper analysis and sampling techniques are needed to the most out of them. We make sure that accurate quantities of all the associated metals and minerals are sampled and assayed. Most importantly, we offer personalized services as every batch is specifically consigned for the concerned customer.
[[[["field19","contains","Call me back"]],[["show_fields","field5,field2"]],"and"],[[["field19","contains","Reply to my email"]],[["show_fields","field2,field5"]],"and"],[[["field19","contains","Send me text message (SMS)"]],[["show_fields","field5,field2"]],"and"]]
Top price paid and excellent service. I lived in Brisbane QLD and needed to post Catalytic Converters down. Price was agreed to via photos and phone conversation before I posted. Upon receiving the CAT, they promptly paid the agreed amount into my account. Very easy and trustworthy. Thanks.
Received outstanding service, was quoted $55 locally for my Catalytic Converters. But with these guys got me $180. I am pleased with the service. Thank you so much, Guys.